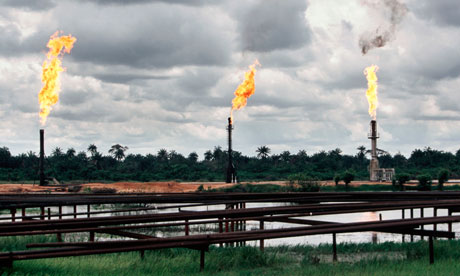 Nigeria
is to penalise
oil
giants for flaring
gas
but campaigners say it's unlikely to curb the release of greenhouse gases in the country, which is the world's second biggest offender after Russia.
Toxic orange flares – a byproduct of Nigeria's 2m-barrel-a-day oil industry – spew the equivalent emissions of the UK's annual gas use every three months in the palm-fringed Niger Delta. Nigeria has
Africa
's largest natural gas reserves, which could be used for power generation if trapped.
"Because of the flares it is so hot, it is smoky, the air is thick and it is constantly daytime here," said Aniete Aniete, a fisherman from the oil-producing Delta heartland. "Our rivers are black and the [acid] rain eats our houses. Our bodies are covered in oil. You feel that if you live to old age here, it is a miracle."